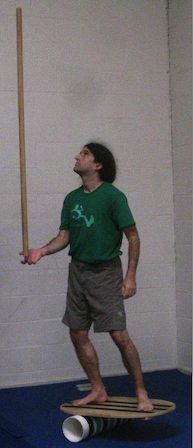 Ron Avitzur
After decades as a sedentary computer programmer, Ron discovered yoga and slacklining. Ron has been teaching yoga since 2009 and is a certified YogaSlacker teacher. He loves slacklining in the park watching folks fall down and giggle. He is a practiced acroyoga base slowly overcoming his fear of flying, and a rock climber working on his fear of heights. He loves teaching people to walk on ropes and fly on friends.
Teaching schedule
Ron teaches acro at The Athletic Playground and Berkeley Ironworks. Build strength, flexibility, and balance with a shared practice of partner acrobatics and partner yoga. We'll focus on precision alignment while finding ease and stillness in the poses. Learn the basics of bone stacking and counterbalance to support your partner. The class includes elements of yoga, conditioning, acrobatics, and therapeutics.
Athletic Playground classes:
•
Monday
5:50 - 6:50pm
•
Wednesday
6:00 - 7:00pm
Ironworks classes:
•
Saturday
5:00 - 6:15pm
Ron invites you slacklining Saturday afternoons at Lake Merrit.